Andy Panda

Premiered in (1957)

---

Andy Panda was a Walter Lantz cartoon. He had many friends including Woody Woodpecker, Sugar Foot & Chilly Willy.

---

Voices:
Dayton Allen
Roy Halee
Ned Sparks
---
Andy Panda Films
The Talking Magpies
The Univited Pest
McDougal's Rest Farm
Happy Go Lucky
Cat Trouble
The Intruders
Flying South
Fishing by the Sea
Super Salesman
Hitch Hikers
Taming the Cat
Sleepless Night
Magpie Madness
Out Again In Again
---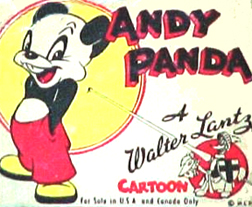 ---
---
back to my Other Toons page
back to my Hanna Barbera page
back to my home page
email me at: ronn@wingnuttoons.com
---

All Characters & images are © and ™ of their respective companies and are used for entertainment and historical purposes only.
Corporate trademarks are used on this and other of my pages are a part of their own company history.
To the best of my knowledge, these companies owned the rights to the trademark character at the time the collectible was issued.
They do not represent Wingnut Productions in any way, shape or form.
They are all scans, snapshots and digital photos from the original collectible that are in my personal collection.
Please email me before you decide to steal any of these pictures. They took a long time to scan.