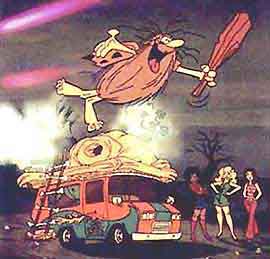 Captain Caveman & the Teen Angels

originally aired with:

Scooby's All Star Laff-A-Lympics

The Flintstones Comedy Show

Premiered on ABC (September 10, 1977)
---
Voices:
Captain Caveman - Mel Blanc
Dee Dee Sykes - Vernee Watson
Brenda Chance - Marilyn Schreffler
Taffy Dare - Laurel Page
---
Captain Caveman Episodes
1977-1978
The Kooky Case Of The Cryptic Keys
The Mixed Up Mystery Of Deadman's Reef
What A Flight For A Fright
The Creepy Case Of The Creaky Charter Boat
Big Scare In The Big Top
Double Dribble Riddle
The Crazy Case Of The Tell-Tale Tape
The Creepy Claw Caper
Cavey And The Kabuala Clue
Cavey And The Weirdo Wolfman
The Disappearing Elephant Mystery
The Fur Freight Fright
Ride 'Em Caveman
The Strange Case Of The Creature From Space
The Mystery Mansion Magic Mix-Up
Playing Footsie With Bigfoot
1978-1979
Disco Cavey
Muscle Bound Cavey
Cavey's Crazy Car Caper
Cavey's Mexicali 500
Wild West Cavey
Cavey's Winter Carnival Caper
Cavey's Fashion Fiasco
Cavey's Missing Missile Mystery
The Scarifying Seaweed Secret
The Dummy
Cavey And The Volcanic Villain
Prehistoric Panic
Cavey And The Baffling Buffalo Men
Dragonhead
Cavey And The Murky Mississippi Mystery
1980-1981
Old Cavey In New York
Cavey And The Albino Rhino
Kentucky Cavey
Cavey Goes To College
The Haunting Of Hog's Hollow
The Legend Of Devil's Run
The Mystery Of The Meandering Mummy
The Old Caveman And The Sea
Lights, Camera...Cavey
---
---
back to my Hanna Barbera page
back to my home page
email me at: ronn@wingnuttoons.com
---
All Characters & images are © and ™ of their respective companies and are used for entertainment and historical purposes only.
Corporate trademarks are used on this and other of my pages are a part of their own company history.
To the best of my knowledge, these companies owned the rights to the trademark character at the time the collectible was issued.
They do not represent Wingnut Productions in any way, shape or form.
They are all scans, snapshots and digital photos from the original collectible that are in my personal collection.
Please email me before you decide to steal any of these pictures. They took a long time to scan.
---