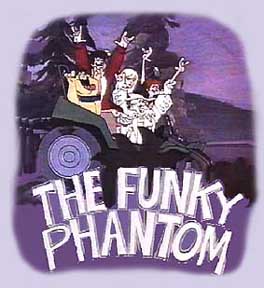 Funky Phantom
Premiered (September 11, 1971)
---
Voices:
Jonathan Wellington Muddlemore (Mudsy) - Daws Butler
April Stewart - Tina Holland
Skip - Micky Dolenz
Augie - Tommy Cook
Elmo (dog) - Jerry Dexter
Boo (cat) - Julie Bennet
---

Funky Phantom Episodes

Don't Fool With A Phantom
Heir Scare
I'll Haunt You Later
Who's Chicken
The Headless Horseman
Spirit Spooked
Ghost Town Ghost
We Saw A Sea Serpent
Haunted In Inn
Mudsy Joins The Circus
Pigskin Predicament
The Liberty Bell Caper
April Foolish Day
The Forest's Prime-Evil
The Hairy Scarey Houndman
Mudsy And The Muddlemore Manor
Ghost Grabbers

---

Funky Phantom Listing in the

---

---

back to my Hanna Barbera page
back to my home page
email me at: ronn@wingnuttoons.com
---

All Characters & images are © and ™ of their respective companies and are used for entertainment and historical purposes only.
Corporate trademarks are used on this and other of my pages are a part of their own company history.
To the best of my knowledge, these companies owned the rights to the trademark character at the time the collectible was issued.
They do not represent Wingnut Productions in any way, shape or form.
They are all scans, snapshots and digital photos from the original collectible that are in my personal collection.
Please email me before you decide to steal any of these pictures. They took a long time to scan.

---