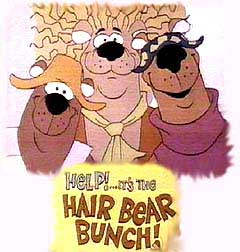 Help! It's The Hair Bear Bunch!

Premiered on CBS (September 11, 1971)
---
At the Wonderland Zoo, Three of the wildest and crazy bears are always looking for that better living conditions in Cave Block #9. They would outsmart their keeper, in trying to escape from the zoo in their search for fun and antics.
---
Voices:
Hair Bear - Daws Butler
Bubi Bear - Paul Winchell
Square Bear - Bill Callaway
Mr Peevly - John Stephenson
Botch - Joe E Ross
---

Help! It's the Hair Bear Bunch! Episodes

1971

Keep Your Keeper
Rare Bear Bungle
Raffle Ruckus
Bridal Boo Boo
No Space Like Home
Love Bug Bungle
Gobs of Gobaloons
Ark Lark
I'll Zoo You Later
Panda Pandemonium
Closed Circut TV
Goldilocks and the Three Bears
The Bear Who Came to Dinner
Unbearable Peevly
The Diet Caper
Kling Klong Versus the Masked Marvel

---

---

back to my Hanna Barbera page
back to my home page
email me at: ronn@wingnuttoons.com
---

All Characters & images are © and ™ of their respective companies and are used for entertainment and historical purposes only.
Corporate trademarks are used on this and other of my pages are a part of their own company history.
To the best of my knowledge, these companies owned the rights to the trademark character at the time the collectible was issued.
They do not represent Wingnut Productions in any way, shape or form.
They are all scans, snapshots and digital photos from the original collectible that are in my personal collection.
Please email me before you decide to steal any of these pictures. They took a long time to scan.