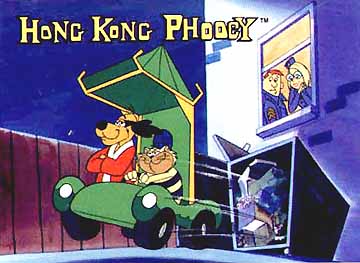 Hong Kong Phooey

Premiered (September 7, 1974)

---

Voices:
Penry / Hong Kong Phooey - Scatman Crothers
Sgt. Flint - Joe E. Ross
Rosemary - Kathy Gori
Spot - Don Messick
---

Hong Kong Phooey Episodes

Car Thieves / Zoo Story
Iron Head, The Robot / Cotton Pickin' Pocket Picker
Grandma Goody (Cat Burglar) / Candle Power
The Penthouse Burglaries / Batty Bank Mob
The Voltage Villain / The Giggler
The Gumdrop Kid / Professor Presto (The Malevolent Magician)
TV Or Not TV / Stop Horsing Around
Mirror, Mirror On The Wall / Great Movie Mystery
The Claw / Hong Kong Phooey Vs. Hong Kong Phooey
The Abominable Snowman / Professor Crosshatch
Goldfisher / Green Thumb
From Bad To Verse (Rotten Rhymer) / Kong And The Counterfeiters
The Great Choo Choo Robbery / Patty Cake, Patty Cake, Bakery Man
Mr. Tornado / The Little Crook Who Wasn't There
Dr. Disguiso / The Incredible Mr. Shrink
Comedy Cowboys

---

Hong Kong Phooey Listing in the

"This brochure printing of TV Guide Fall Preview Schedule showed all the Saturday morning listings on ABC in the fall of 1974. "

---

---

back to my Hanna Barbera page
back to my home page
email me at: ronn@wingnuttoons.com
---

All Characters & images are © and ™ of their respective companies and are used for entertainment and historical purposes only.
Corporate trademarks are used on this and other of my pages are a part of their own company history.
To the best of my knowledge, these companies owned the rights to the trademark character at the time the collectible was issued.
They do not represent Wingnut Productions in any way, shape or form.
They are all scans, snapshots and digital photos from the original collectible that are in my personal collection.
Please email me before you decide to steal any of these pictures. They took a long time to scan.