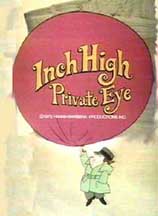 Inch High Private Eye
Premiered on ABC (September 8,1973)
---

Voices:
Inch High - Lenny Weinrib
Lori - Kathy Gori
Gator - Bob Lutell
Mr Finkerton - John Stephenson
Mrs Finkerton - Jean VanderPyl
Braveheart - Don Messick
---
Inch High Private Eye Episodes
Diamonds Are Crooks Best Friend
You Oughta Be In Pictures
The Smugglers
Conterfeit Story
The Doll Maker
Mummy's Curse

Music Maestro
High Fashion
Dude Cry
The Worlds Greatest Animals
The Cat Burglars
Super Flea
The Return Of Spumoni
---
---
back to my Hanna Barbera page
back to my home page
email me at: ronn@wingnuttoons.com
---
All Characters & images are © and ™ of their respective companies and are used for entertainment and historical purposes only.
Corporate trademarks are used on this and other of my pages are a part of their own company history.
To the best of my knowledge, these companies owned the rights to the trademark character at the time the collectible was issued.
They do not represent Wingnut Productions in any way, shape or form.
They are all scans, snapshots and digital photos from the original collectible that are in my personal collection.
Please email me before you decide to steal any of these pictures. They took a long time to scan.