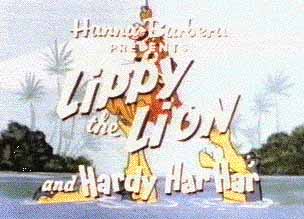 Lippy the Lion and Hardy Har Har
originally included as "The Hanna Barbera New Cartoon Series" with
Touché Turtle
Wally Gator
Premiered (September 3, 1962)
---

Voices:
Lippy the Lion - Daws Butler
Hardy Har Har - Mel Blanc / Daws Butler
---

Lippy the Lion episodes

1962

See Saw
Watermelon Felon
Scare to Spare
Gulp and Saucer
Map Happy
Smile the Wild
Charge of the Fright Brigade
Film Flam
Gunflighter
Hick Hikers
A Thousand and One Frights
Double Trouble
Laugh a Loaf
Genie is a Meany
Banks for Everything
Fiddle Faddled
Kidnap Trap
Witch Crafty
Gas Again
Horse and Waggin
Baby Bottled
Hard Luck Hardy
Show Use
Injun Trouble
Mouse in the House

Crazy Cat Capers
Phoney Pony
Egg Experts
Rabbit Romeo
Bird in the Hand
Legion Heirs
Hoots and Saddles
Monster Mix-Up
Bye Bye Fly Guy
Wooden Nickels
Two for the Road
Kings X
Amusement Park Lark
T for Two
Tiny Troubles
Flood for a Thought
Hocus Pocus
Sham-Rocked
Old Fuddy Duds
Chow You Feelings
Easy Does It
Drop Me a Lion
Map Sap
Shark Shock
No Spooking Allowed
Me-My-Mine
Together Mess

---

---

back to my Hanna Barbera page

back to my home page

email me at: ronn@wingnuttoons.com

---

All Characters & images are © and ™ of their respective companies and are used for entertainment and historical purposes only.

Corporate trademarks are used on this and other of my pages are a part of their own company history. To the best of my knowledge, these companies owned the rights to the trademark character at the time the collectible was issued. They do not represent Wingnut Productions in any way, shape or form. They are all scans, snapshots and digital photos from the original collectible that are in my personal collection.

Please email me before you decide to steal any of these pictures. They took a long time to scan.