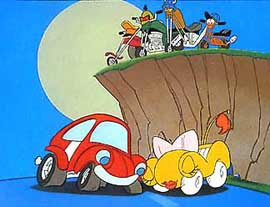 Wheelie and the Chopper Bunch
Premiered on NBC (September 7, 1974)
---

Voices:
Wheelie - Frank Welker
Rota Ree - Judy Strangis
Chopper - Frank Welker
Scrambles - Don Messick
Revs - Paul Winchell
High Riser - Lenny Weinrib
---

Wheelie & the Chopper Bunch Episodes

Get A Doctor
A Day at The Beach
Ghost Riders
Double Cross Country
The Stunt Show
Razzle Dazzle Paint Job
The Autolympics
The Delivery Service
The Infiltrator
The Big Bumper
Surprise Party
On The Town
Black Belt Fuji
Our Hero
Wheelie Goes Hawaiian
The Inspection
The Old Timer
The Copter Caper
Dr. Crankenstein

Bulldozer Buddy
Happy Birthday Wheelie
Wheelie, The Super Star
Down on The Farm
Roadeo
Carfucios Says
Mighty Wheelie
Camping With a Go Go
Lenny Van Limousine
Snow Foolin
Wheelie In Paris
Dragster Net
Dragula
Boot Camp
Dr Cykll And Mr. Ryde
Johnny Crash
Wheelie and The Smoke Eater
Friday The Thirteenth
Wings Of Wheelie
Wheelie's Clean Sweep

---

Wheelie and the Chopper Bunch Listing in the TV Guide Fall Preview

---

---

back to my Hanna Barbera page
back to my home page
email me at: ronn@wingnuttoons.com
---

All Characters & images are © and ™ of their respective companies and are used for entertainment and historical purposes only.
Corporate trademarks are used on this and other of my pages are a part of their own company history.
To the best of my knowledge, these companies owned the rights to the trademark character at the time the collectible was issued.
They do not represent Wingnut Productions in any way, shape or form.
They are all scans, snapshots and digital photos from the original collectible that are in my personal collection.
Please email me before you decide to steal any of these pictures. They took a long time to scan.