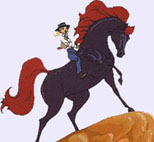 Wildfire

Premiered on CBS (September 13, 1986)
---
On the Planet Dar Shan lives a magicial horse called Wildfire. He is owned by Princess Sara. They do battle with the evil witch sorceress Diabolyn. On her quest for goodness & peace they are helped by the many local servants. Wildfire is voiced by John Vernon who starred as Dean Warmer from National Lampoon's "Animal House"
---
Voices:
Princess Sara - Georgi Irene
Dorin - Robert Jacoby
Diabolyn - Jessica Walter
Wildfire - John Vernon
Brutus - Susan Blu
Alvinar - Rene Auberjoinois
King John - David Ackroyd
Ellen - Lilly Moon
Dweedle - Billy Barty
Mrs. Ashworth - Vicky Carroll
---

Wildfire Episodes

1987

The Once and Future Queen
A Visit To Wonderland
The Ogre's Bride
Secret of the Sinti Magic
A Meeting in Time
The Highway Man
The Pixie Pirates
The Name is the Game
Strangers in the Night
Dragons of Dar Shan
King for a Day
Where Dreams Come From
Wildfire King of the Horses

---

Wildfire Links:
Mary C's - Wildfire Web Page that is tops above mine
---

---

back to my Hanna Barbera page
back to my home page
email me at: ronn@wingnuttoons.com
---

All Characters & images are © and ™ of their respective companies and are used for entertainment and historical purposes only.
Corporate trademarks are used on this and other of my pages are a part of their own company history.
To the best of my knowledge, these companies owned the rights to the trademark character at the time the collectible was issued.
They do not represent Wingnut Productions in any way, shape or form.
They are all scans, snapshots and digital photos from the original collectible that are in my personal collection.
Please email me before you decide to steal any of these pictures. They took a long time to scan.