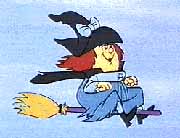 Winsome Witch
originally aired with The Atom Ant / Secret Squirrel Show
Premiered (October 2,1965)
---
Voices:
Winsome Witch - Jean VanderPyl
---
Winsome Witch episodes
1965-1966

Have Broom Will Travel
Prince of a Pup
Operation Broom Switch
The Hansel and Gretel Case
The Little Big League
Schoolteacher Winnie
Good Red Riding Hood
Winnie's Baby
How Now Cinderella
Have Broom Will Zoom
Winnie the Sheriff
Welcome Wagging
Shoo Spy

Hollywood or Busted
Wolfcraft Vs. Witchcraft
Tallyho the Hunter
Witch Hitch
Ugly Duckling Trouble
Witch Witch is Witch

1966-1967

Good Little Scout
Potluck
Pussycat-Man
Sheriff Winnie
Wee Winnie Witch
Sea-Dogged
Wild Wild Witch
---
---
back to my Hanna Barbera page
back to my home page
email me at: ronn@wingnuttoons.com
---
All Characters & images are © and ™ of their respective companies and are used for entertainment and historical purposes only.
Corporate trademarks are used on this and other of my pages are a part of their own company history.
To the best of my knowledge, these companies owned the rights to the trademark character at the time the collectible was issued.
They do not represent Wingnut Productions in any way, shape or form.
They are all scans, snapshots and digital photos from the original collectible that are in my personal collection.
Please email me before you decide to steal any of these pictures. They took a long time to scan.