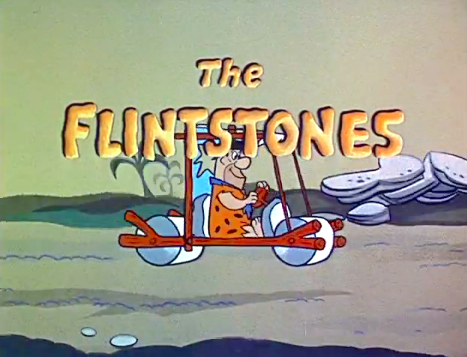 The Flintstones
The Bedrock Slate
Hello Flintstones fans, This is Ronn Webb. Having making my website on Hanna Barbera cartoons, I have been receiving daily email from alot of Flintstone veiwers. I just want to pass along one letter that was written to me. Here is Mike Eiland's letter:

---

I remember certain episodes by title because of that. Since titles are never seen in the reruns, no one knows that the birth of Pebbles episode was titled, "The Blessed Event," or that the title of the first episode shown was "The Flintstone Flyer." (The first one made was "The Swimming Pool").

Most of my information comes from old TV Guides and our local newspaper on microfilm at the library. Some of this stuff I've just never forgotten. I think you'll really like this. Maybe you can add this to your page since the Flintstones was such a special, ground-breaking show at the time (prime-time, pregnancy, birth, big guest stars). I wrote down the episodes and dates years ago for my own records, but have never been able to share the information until now. I highlighted pivotal episodes for each season.

THE FIRST SEASON

Friday nights at 8:30 on ABC

Premiere September 30 Season end 4/7/61 ---28 episodes

''The Swimming Pool" was the pilot that sold the show, but since Fred and

Barney fought a lot on that one, ABC didn't want that to be America's

introduction to the characters, so "The Flintstone Flyer" was shown instead

and moved "Pool" to the third week.

"No Help Wanted" (10/21/60) was the first appearance of Dino.

"The Snorkasaurus Story" (1/17/61) is often noted as the first appearance of

Dino. But this one talked and was called Dino at the end, having been taken

home as a pet, so no wonder anyone would think so. Maybe H-B was hoping that

we forgot we saw Dino one time weeks earlier and tried this stunt on us?

Maybe they had a change of heart about having Dino talk because he surely

upstaged the other characters on that episode. One of the funniest in the

series.

THE SECOND SEASON

Friday nights 8:30 on ABC

Season premiere 9/15/61 Season end 4/27/62 ---32 episodes

Second season notes: Daws Butler did five episodes for Mel Blanc shown this

season after Blanc had a near-fatal car accident in January 1961---during the

first season of the Flintstones (all first-season episodes were completed

before the accident). Blanc had two other network TV shows that were

affected; "The Jack Benny Show" and "The Bugs Bunny Show." Certain framing

segments were repeated for the BB show since they were done for the television

show. The rest were the classic cartoons done years earlier.

The five Daws Butler episodes (where Barney sounds a lot like Yogi Bear):

"The Hit Songwriters" (guest starring Hoagy Carmichael) 9/15/61

"Droop Along Flintstone" 9/22/61

"Fred Flintstone Woos Again" 10/13/61

"The Rock Quarry Story" 10/20/61

"The Little White Lie" 11/10/61

THE THIRD SEASON

Friday nights at 8:30 on ABC

Season premiere 9/14/62 Season end 4/5/63 ---28 episodes

Notes: FIRST SEASON IN COLOR! New theme song, "Meet The Flintstones"

replaces the original instrumental theme. Pebbles added to cast.

First episode SHOWN in color (but all episodes were MADE in color):

"Dino Goes Hollyrock" (9/14/62)

"The Blessed Event" (2/22/63) The birth of Pebbles Flintstone

THE FOURTH SEASON

Moves to THURSDAY NIGHTS at 7:30 on ABC

"Burke's Law" takes its old Friday night time slot

Season premiere 9/19/63 Season end 3/12/64 ---26 episodes

Season premeire episode:

Ann-Margrock Presents (guest starring Ann-Margret) 9/19/63

"Little Bamm-Bamm" 10/3/63 (The "adoption" of Bamm-Bamm)

THE FIFTH SEASON

Thursday nights at 7:30 until December 25, 1964, when "Christmas Flintstone"

returned the show to its old Friday night slot but at earlier 7:30 time.

"Jonny Quest" takes "The Flintstones" old Thursday night 7:30 slot. "Quest"

had premiered Friday, September 18, 1964 at 7:30.

Season premiere 9/17/64 Season end 3/12/65 ---26 episodes

Note: Gerry Johnson begins as Betty with "Hop Happy," as Bea Benadaret moves

on to continue with other projects including playing Kate on "Petticoat

Junction," by this time beginning its second season.

Season premiere episode:

"Hop Happy" (9/17/64)

"Christmas Flintstone" 12/25/64 (moves back to Friday nights, but at earlier

7:30 slot with this episode).

THE SIXTH SEASON

Season premiere 9/17/65 Season end 4/1/66 ---26 episodes

Friday nights at 7:30 on ABC

"Samantha" 10/22/65 (guest starring Dick York and Elizabeth Montgomery,

appearing like they do on the "Bewitched" animated opening, done by Hanna-

Barbera).

"The Great Gazoo" 10/29/65 (Harvey Korman begins as Gazoo)

"The Story of Rocky's Raiders" 4/1/66 (the last first-run episode)

There is a Flintstones book available, but it's pretty expensive. I flipped

through it and it has episode summaries for each show, but they are listed in

the order that they were made---not the order shown, but looks like great info

is there. I happened to see the paragraph about H-B doing the intro to

"Bewitched" while flipping through it. That's how I found that out. It

appears the book came out around the time of the Flintstones movie with John

Goodman because there is mention of it coming out soon.
---
---
back to my Hanna Barbera page
back to my home page
email me at: ronn@wingnuttoons.com
---
All Characters & images are © and ™ of their respective companies and are used for entertainment and historical purposes only.
Corporate trademarks are used on this and other of my pages are a part of their own company history.
To the best of my knowledge, these companies owned the rights to the trademark character at the time the collectible was issued.
They do not represent Wingnut Productions in any way, shape or form.
They are all scans, snapshots and digital photos from the original collectible that are in my personal collection.
Please email me before you decide to steal any of these pictures. They took a long time to scan.
---
email Mike Eiland at: meiland278@aol.com