Scooby-Doo, Where Are You?

---

There are many places to visit on my Scooby Doo Webpage, just click on the area you would like to choose:
---

Scooby Doo's History
Back In 1969 Scooby Doo was conceived from ideas, concepts, and designs of
Bill Hanna, Joe Barbera, Fred Silverman, writers Joe Ruby & Ken Spears, and designer Iwao Takamoto.
They came up with a working title "Who's S-S-S-S-Scared?" about teenage mod rockers & their dog.
The group named themselves "Mystery's Five". They travel the country only to find mystery, suspense, and many monsters.
You will find them involved in stories of ghostly graveyards, eerie islands, and haunted houses.
Well of course Hanna & Barbera changed the characters around a bit, and came up with:
The gang travel in their Mystery Machine. They meet up with a ghost or monster that results in a curse,
then get chased around with some really groovy original music in the background.
They find clues that leads to the uncovering of the monster or ghost.
Almost every show the villain always states "I would have gotten away, If it weren't for those kids and that dog!"
Guarantee a satisfied ending in every episode when Scooby replies "Scooby Dooby-Doo-oo-oo!!"
---
---

Scooby Doo Episodes
Click on your favorite season
---

Scooby Doo Movies
You can Get Yours from www.amazon.com:
---
Scooby Doo!
The Mystery Begins
check out www.amazon.com for more info
---

If you're looking for a groovy Scooby Doo Costume selection look no further.
Here you'll find Halloween Costumes for every member of the Scooby Doo gang.





Check out www.halloweencostumes.com for more info
---

Click the Comic Book Below to Download a Linked PDF file of the Scooby Doo Comic Book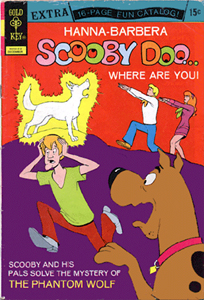 Hanna Barbera Scooby-Doo... Where Are You?
Here is a PDF file of The Scooby-Doo Gold Key Comic Book #15 from December 1972
---

The Recent Scooby Doo Collection
Here at wingnuttoons.com,
If it has Scooby-Doo on it! We will find it! and post it here!
Sorry, items here are Not For Sale!!
I could help you find some of these items just email me below. Please check out my entire collection below this section!
Here are some of the new items that I have found recently:
---
All my Scooby Doo Cool-lectibles

Zoinks!! Come see over Five Hundred items listed and still growing!!
---

Jinkies! Click here for the Wendy's Kids Meal flip book,
in all of it's animated glory:
---
Click here for more Scooby Doo info on the web

---

All Characters & images are © and ™ of their respective companies and are used for entertainment and historical purposes only.
Corporate trademarks are used on this and other of my pages are a part of their own company history.
To the best of my knowledge, these companies owned the rights to the trademark character at the time the collectible was issued.
They do not represent Wingnut Productions in any way, shape or form.
They are all scans, snapshots and digital photos from the original collectible that are in my personal collection.
Please email me before you decide to steal any of these pictures. They took a long time to scan.
---